Vegetable Bullet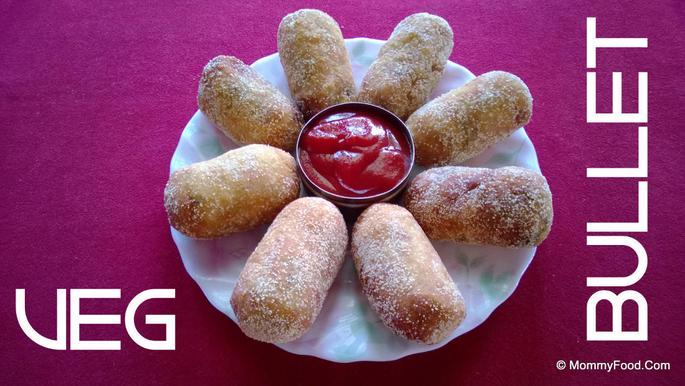 Preparation time: 30 minutes
Cooking time: 30 minutes
Main ingredients: Vegetables
Course: Sanck
Yield: 10-15 Bullets
1 Cup measurement: 200 ml
Ingredients

Amaranthus, Spinach (Thotakura, Palakura) : 2 bunches, 1 bunch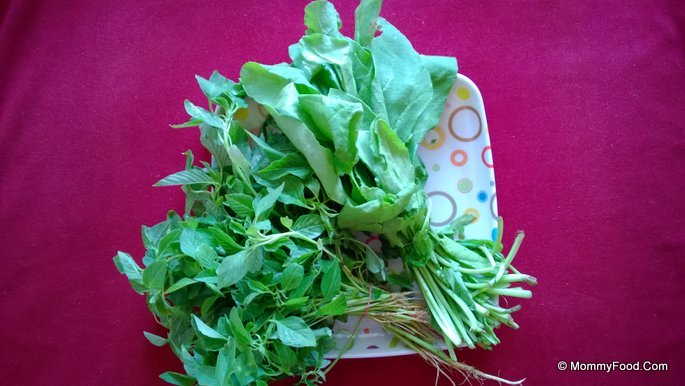 Potato, Carrot : 4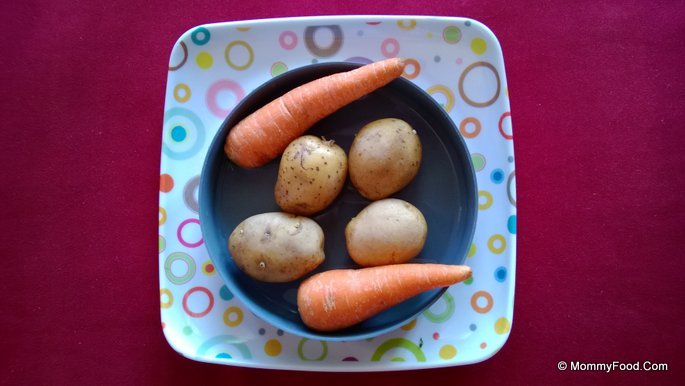 Pachi Batanilu (Peas) : 1 cup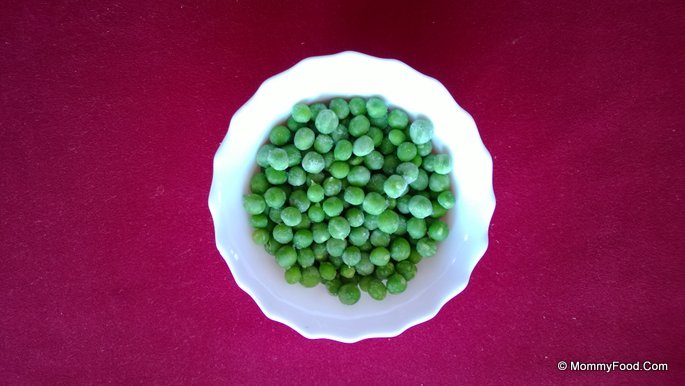 Sweet Corn : 1/2 cup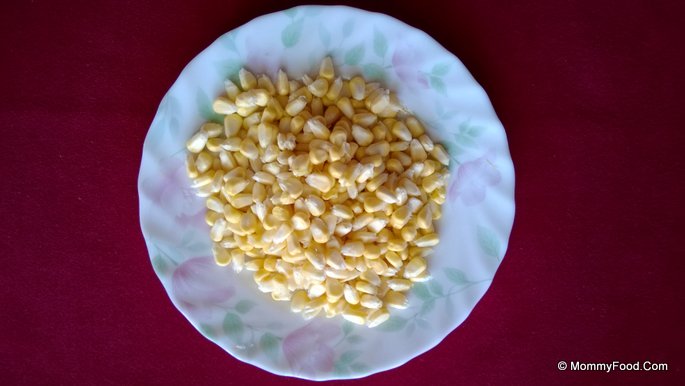 Pudina (Mint Leaves) : 1/4 cup

Kothimeera (Corriander Leaves) : 1/4 cup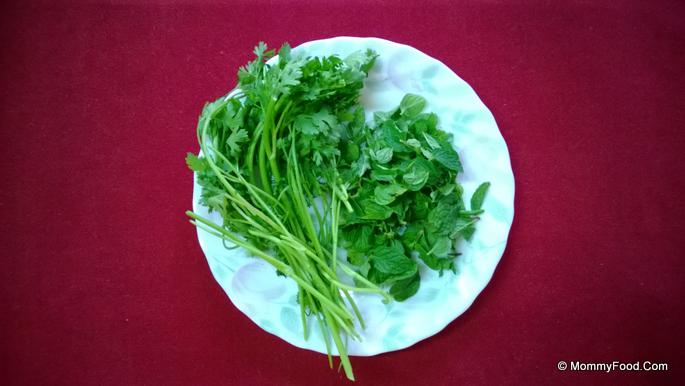 Allam Velulli Paste (Ginger Garlic Paste) : 1 tsp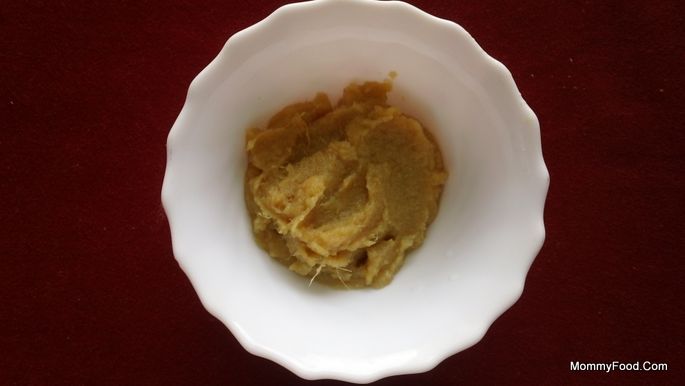 Miriyala Podi (black Pepper Powder) : 1/4 tsp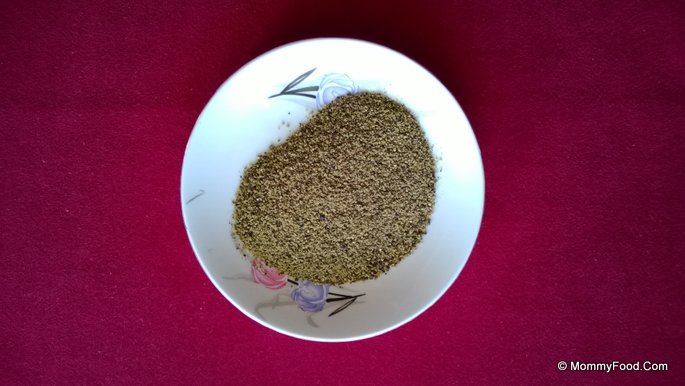 Pachimirapa (Green Chillies) : 6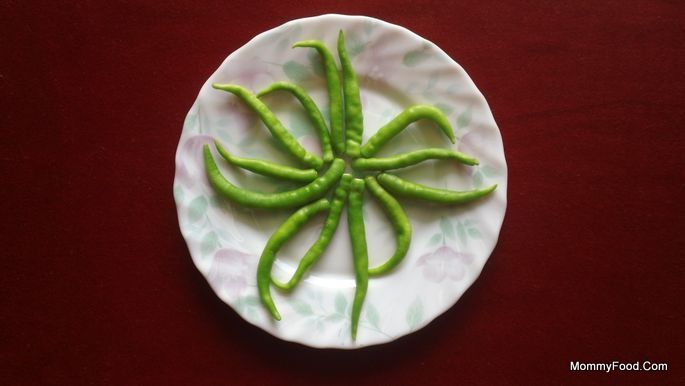 Bread Slices : 25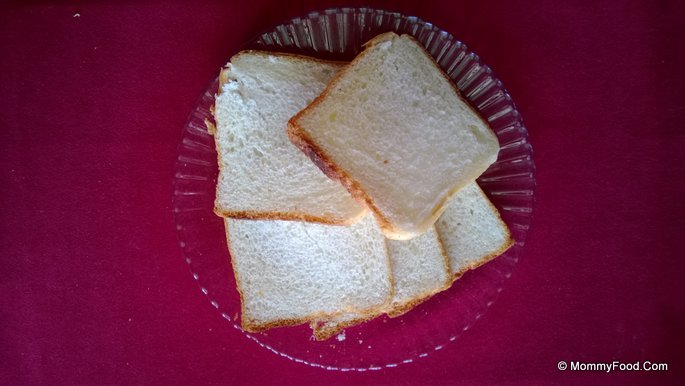 Bombayi Rava (Semolina) : 1/4 cup

Maida (All Purpose Flour) : 1/4 cup

Biyyam Pindi (Rice Flour) : 1/4 cup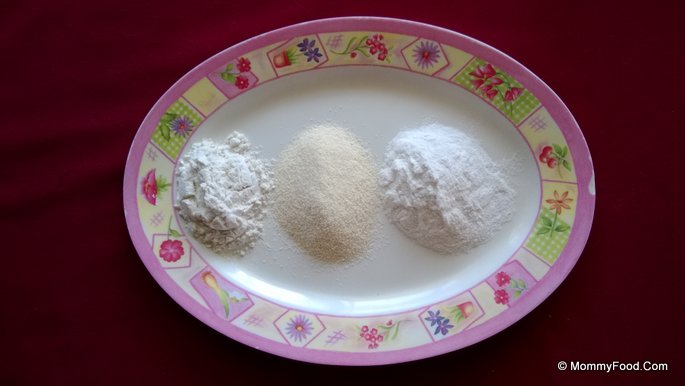 Salt : 2 tsp

Oil : To fry


Procedure

Step 1 : Cook Potato & Carrot together. Once cooked, remove the skin of Potato and Carrot in pressure cooker for 3 whistles in high flame and 1 minute in low flame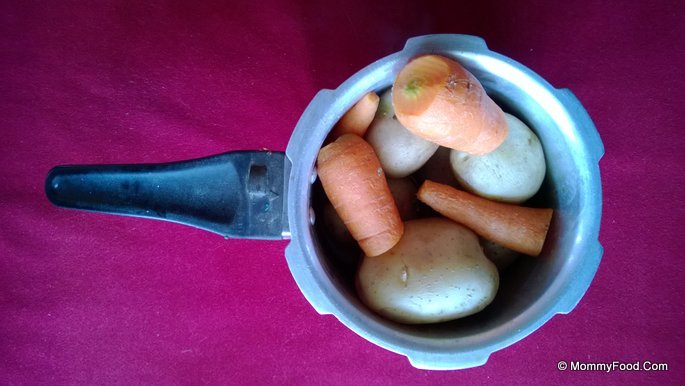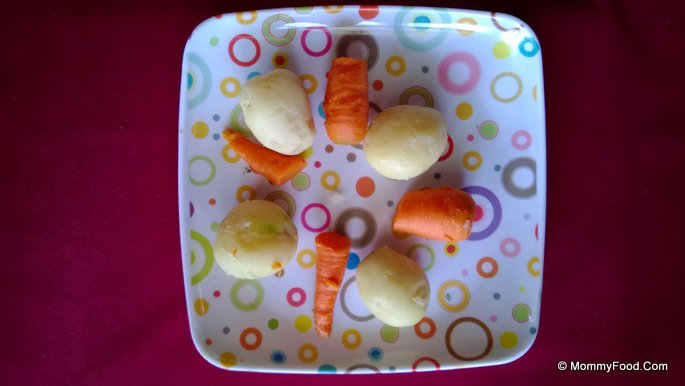 Step 2 : Boil Peas & Corn adding 1/4 glass water and 1/2 tsp salt. Strain the water from it, keep it aside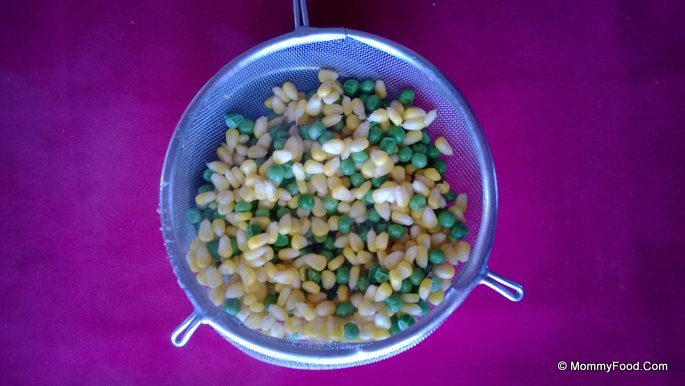 Step 3 : Mash the Potato, Carrot, Peas, Corn and mix them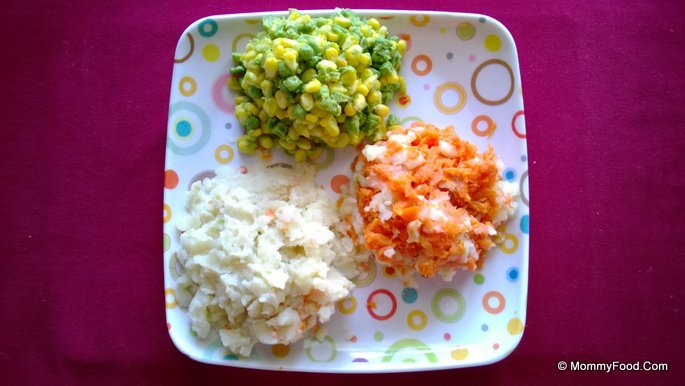 Step 4 : Fry 1 tsp ginger garlic paste to 1 tsp oil, add 6 green chillies paste. Immediately add 1 bunch Spinach and 2 bunches Amaranthus pieces, cook without adding water in a closed pan in medium flame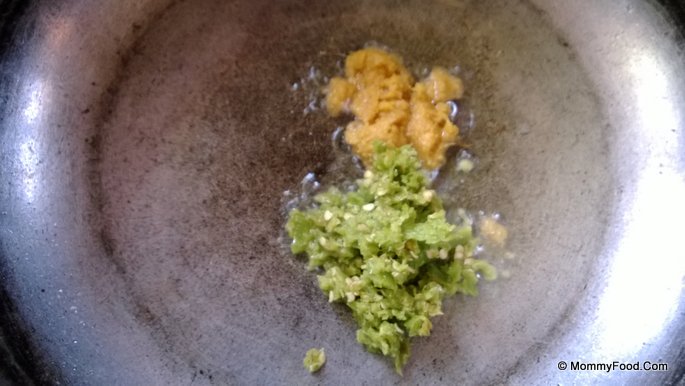 Step 5 : Add 1 tsp Salt, 1/4 tsp Pepper Powder immediately add Mint Leaves and Coriander Leaves. Let it cook for 7-10 minutes in medium flame. Turn off the flame once water is evapourated and leaves are cooked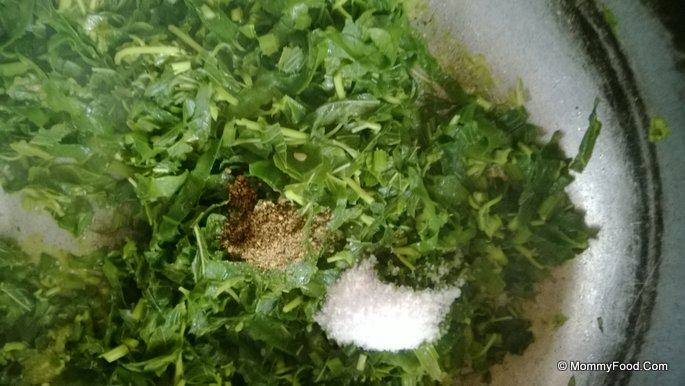 Step 6 : Add cooked leaves to Mashed Potato, Carrot, Peas, Corn. Taste and add salt if necessary.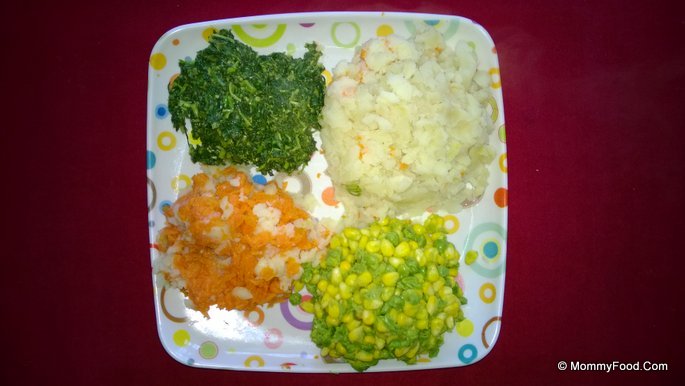 Step 7 : Mix all these, prepare the mixture into an oval shape


Step 8 : Cut the borders of bread slices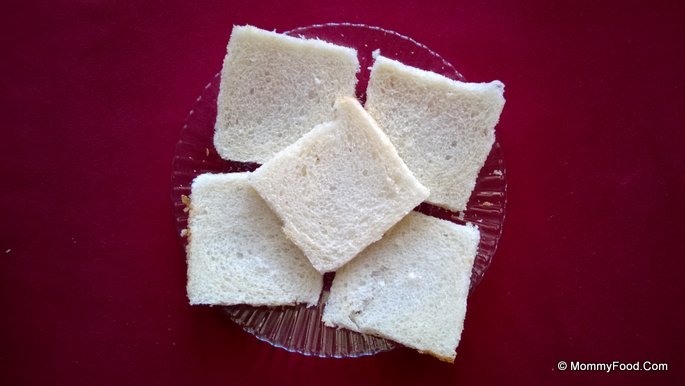 Step 9 : Mix 1/4 tsp each of Rice Flour, Maida, Bombayi Rava in a broad tray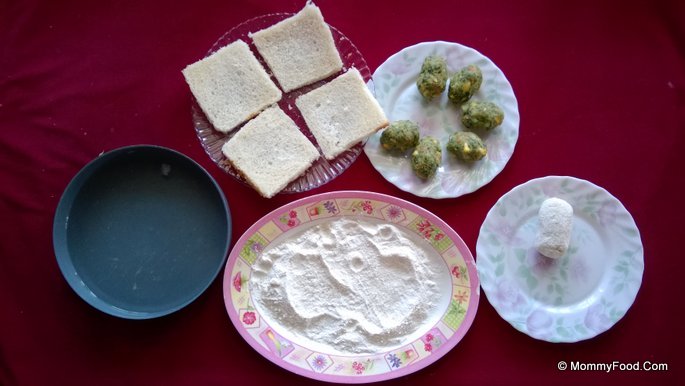 Step 10 : Dip bread slice in mildly salt added Water, press the bread with hand (See that water is not present in bread)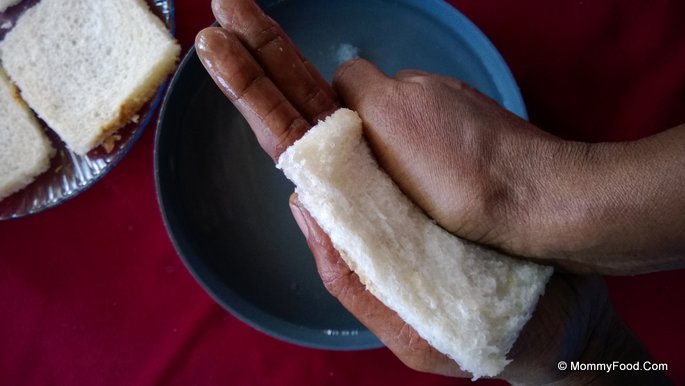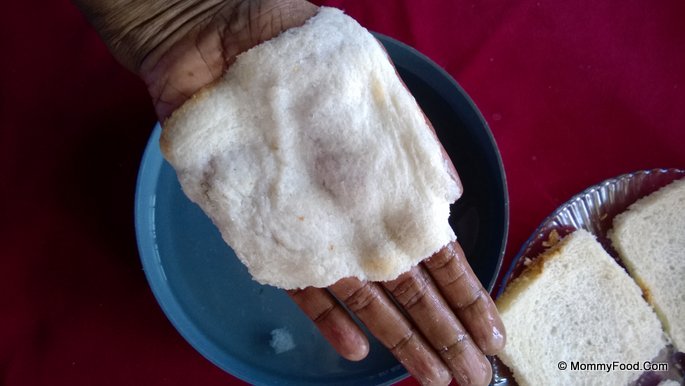 Step 11 : Put Oval shaped ball in pressed bread slice and close it from all the sides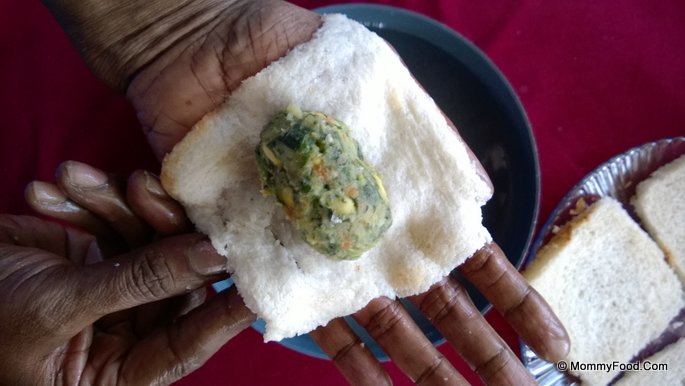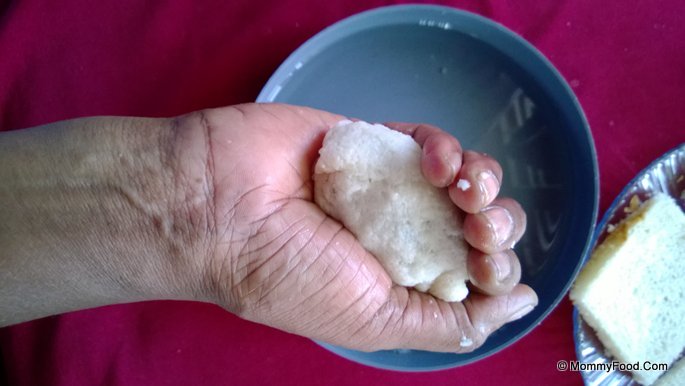 Step 12 : Roll the ball thoroughly in the powder prepared earlier (Step 9)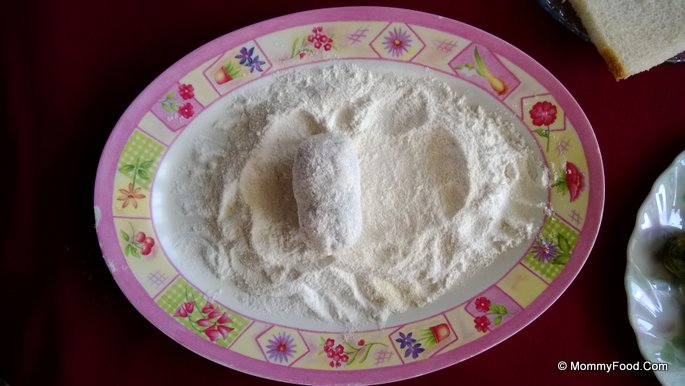 Step 13 : Prepare all the balls, fry them in Oil in high flame or medium flame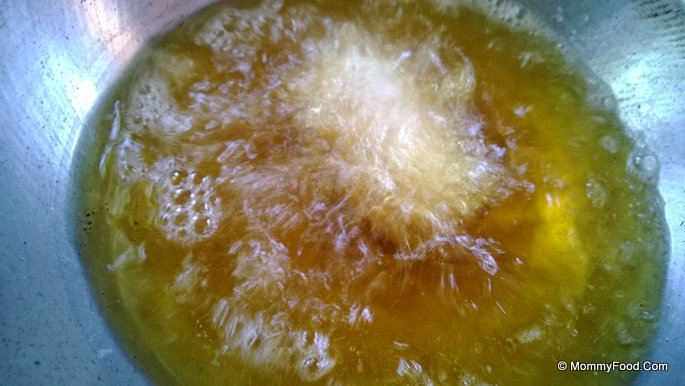 Step 14 : Fry till golden brown colour in high flame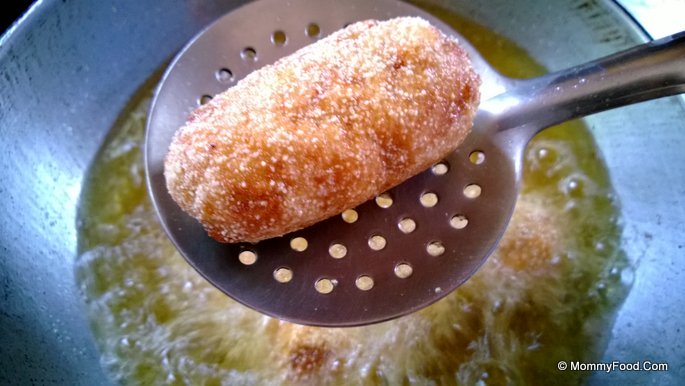 Hot and Crispy Vegetable Bullet is ready to serve, tastes good with Tomato Sauce :)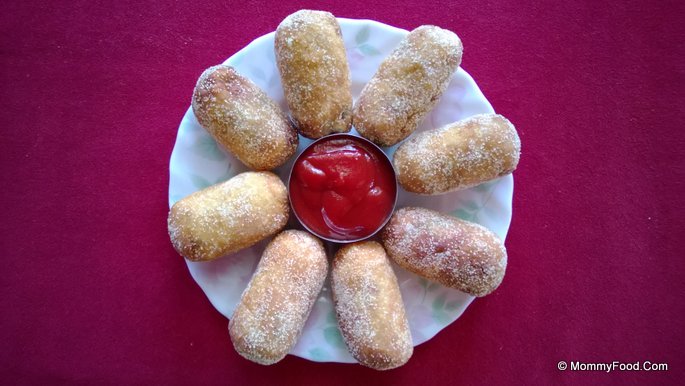 Thank You Uma Attayya for the splendid item.