Ravva Kesari | Kesar Suji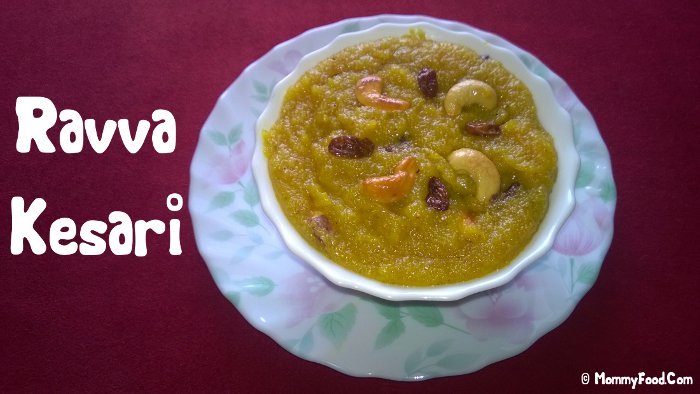 Ravva kesari is a popular south indian sweet made from semolina during the festive season.

Rava kesari has an orange colour (the term Kesari which means Orange coloured), so i added orange food colour while making ravva kesari.

If you don't like to use any colours in food, use saffron or kesar to give the colour tones by adding little Saffron in boiling water and add to sweet. Saffron will give yellow tones and not orange, apart from that it gives a nice flavor and aroma to the ravva kesari. If you want orange tones, then add orange food colour.

Remember to roast the ravva/semolina very well to get the best texture and taste. Here i am going to prepare the sweet with water, you can also add milk and water in equal proportion (250ml each) for 1 cup. I am adding Sugar after frying ravva before adding water so that lumps are not formed at the same time ravva is also cooked even if sugar added before water.

Ravva kesari made during any Indian festivals like Dasara, Janmashtami, Diwali, while performing pooja to Sri Sai Baba and also at Satyanarayana Swamy Vratam.
Serves: 3-4
Preparation Time: 5 min
Cook Time: 10 min
Total Time: 15 min



Ingredients

Bombay Ravva (Semolina) : 100 grams or 1 Cup measuring 125ml Capacity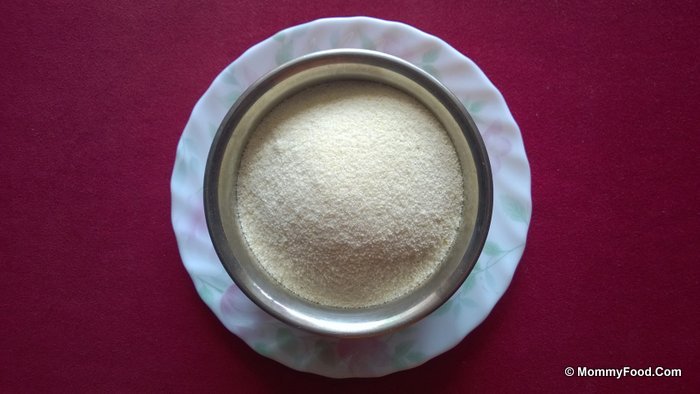 Panchadara (Sugar) : 100 grams or 1 Cup measuring 125ml capacity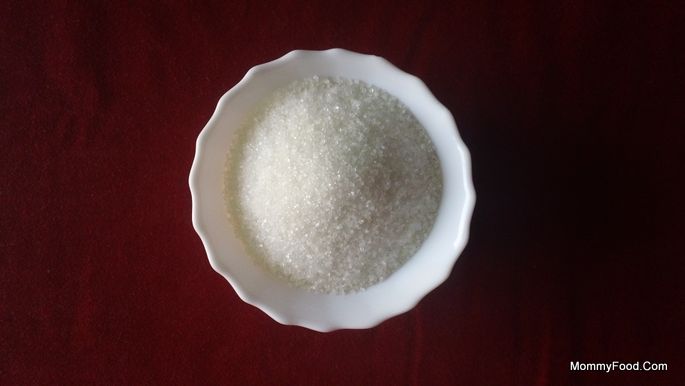 Neyyi (Ghee) : 50 grams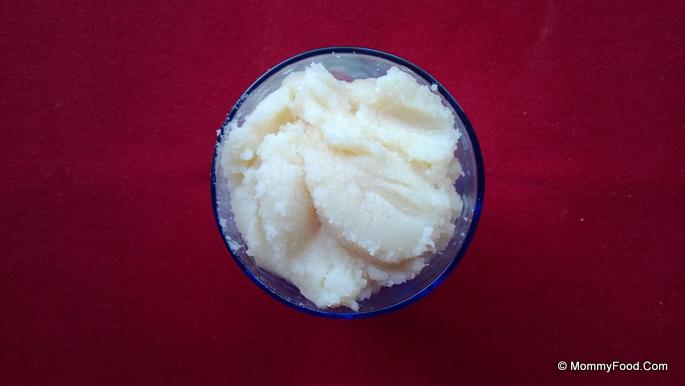 Jeedipappu (Cashews) : 50 grams

Kismis (Raisins) : 50 grams

Yelukkayi (Cardamom) : 4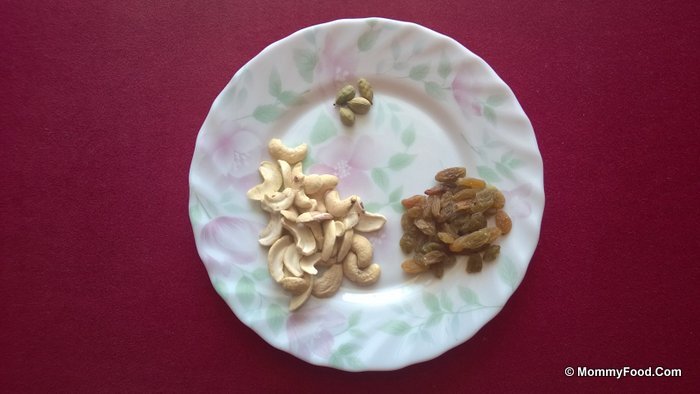 Orange Food Colour : Pinch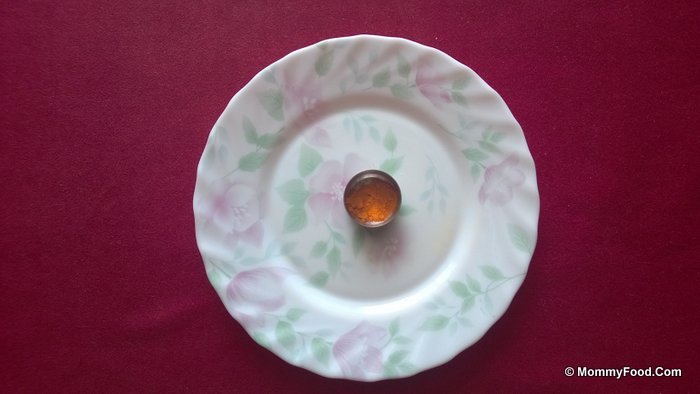 Water : 500ml

Procedure
Step 1 :
Heat 2-3 tsp of Ghee in a pan, fry Cashews and Raisins. Keep them aside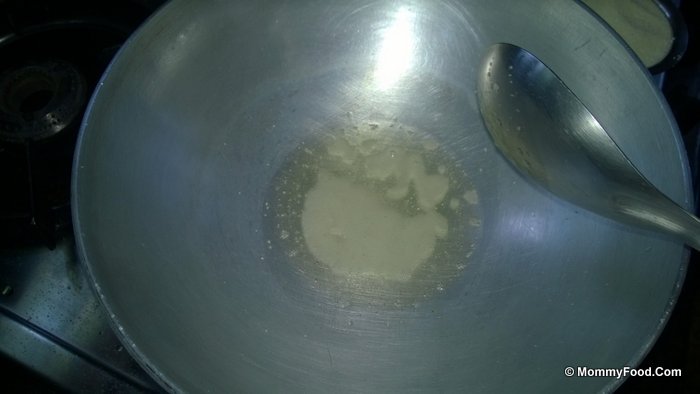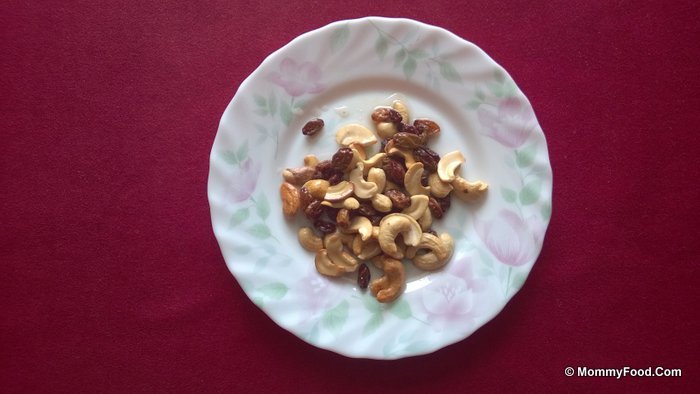 Step 2 : Fry Semolina in ghee for 2-3min in high flame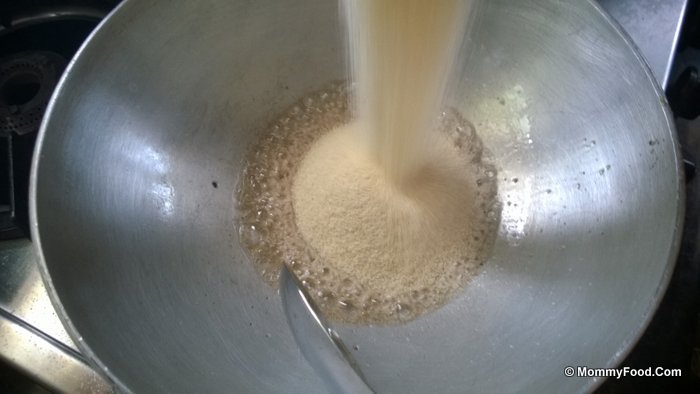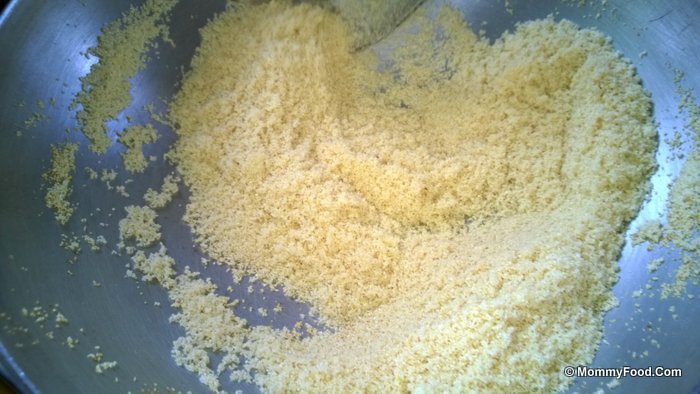 Step 3 : Add Sugar to fried Semolina, mix continuously for 2 min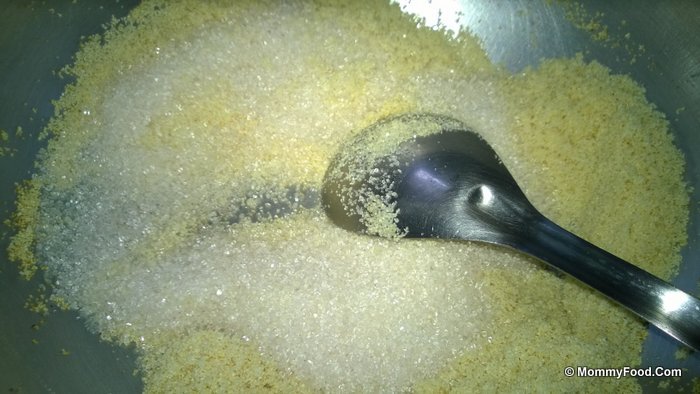 Step 4 : Add water to fried Semolina, keep on moving for 2 min in high flame (see that lumps are not formed)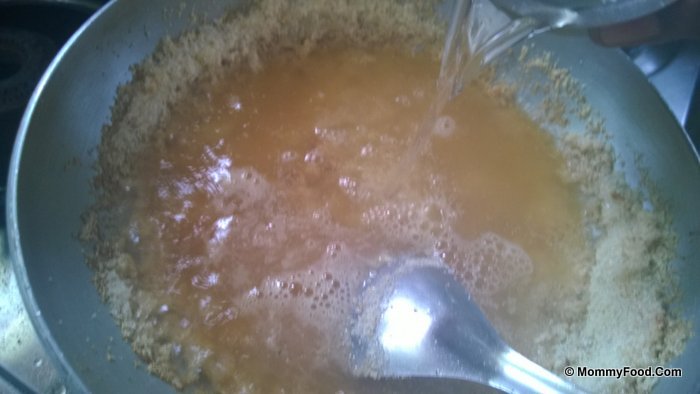 Add water or Milk to Food Color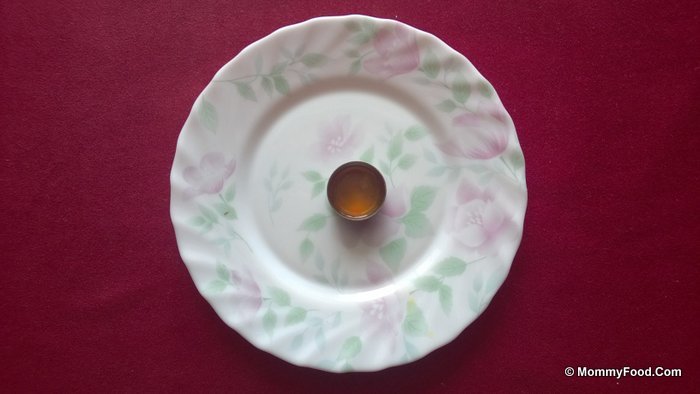 Or Soaked Saffron in milk (palallo nanabettina kumkumapuvvu)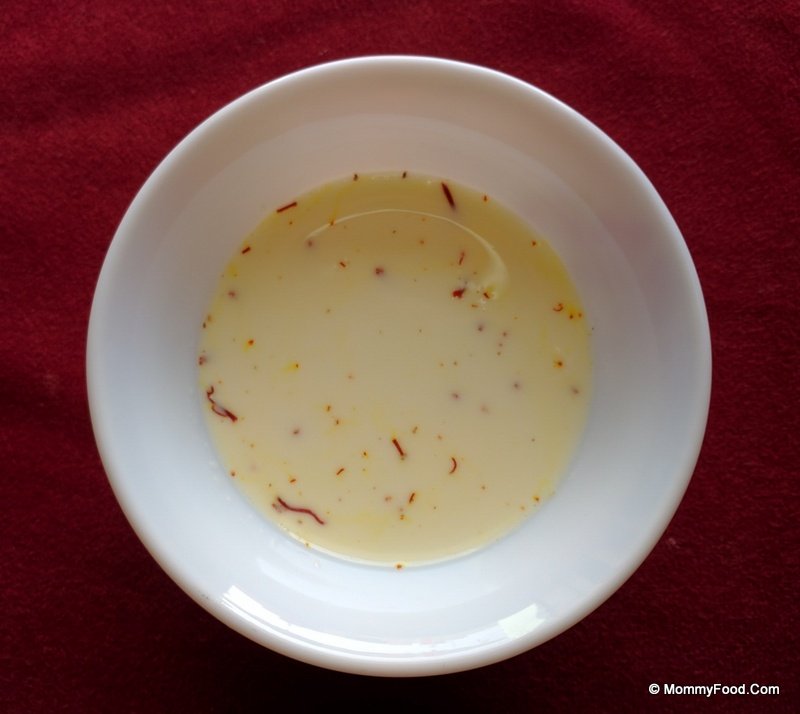 Add this color water or saffron to sweet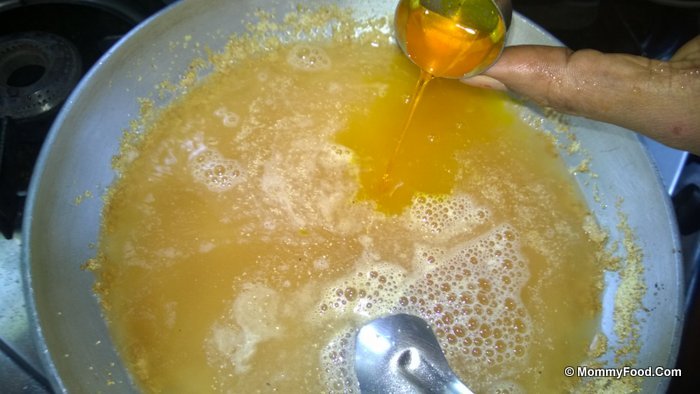 Step 5 : When sweet is less thicken add 50grams ghee or less if required, let it also cook in ghee for 2 min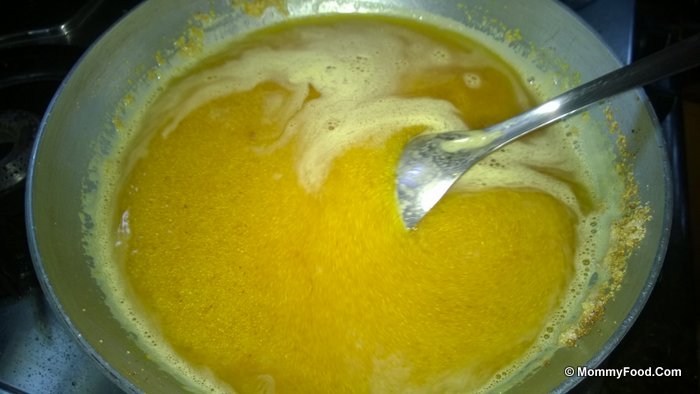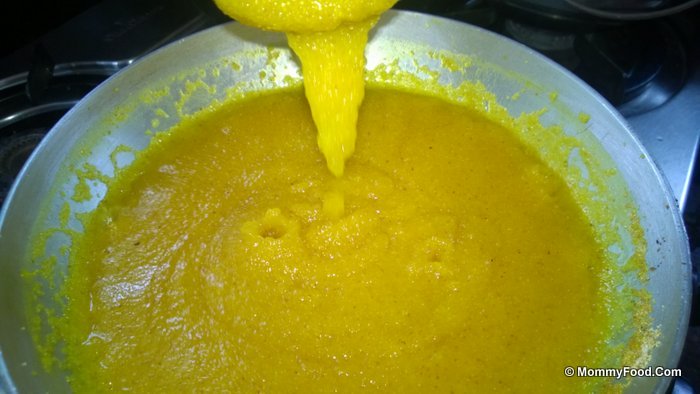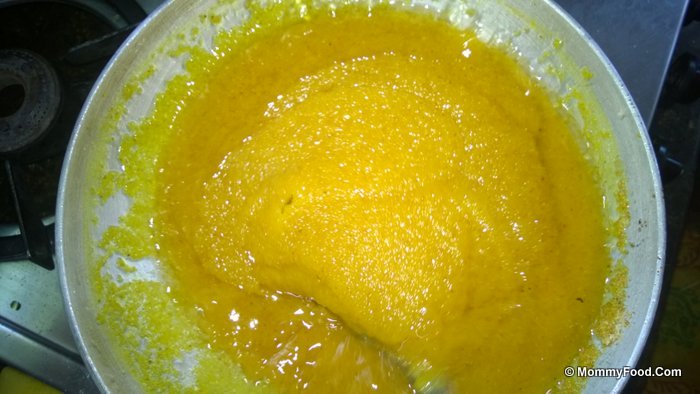 Step 6 : Add fried Cashews, Raisins and Cardamom Powder, mix it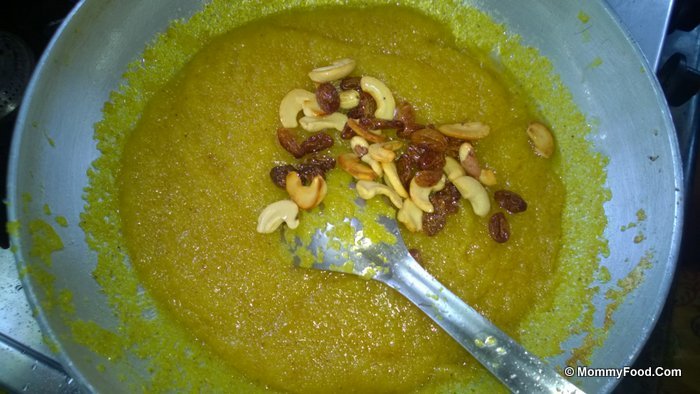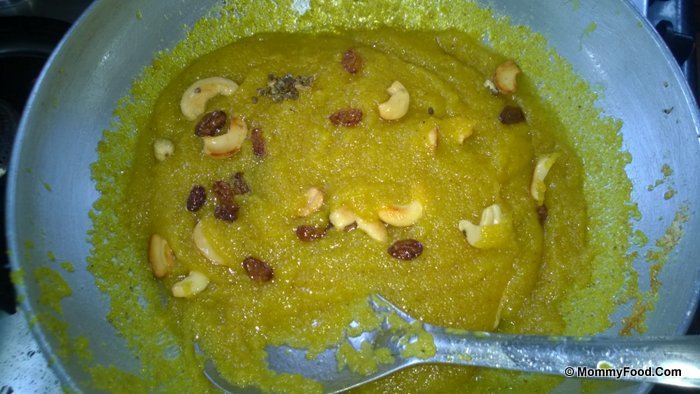 Off the flame and garnish with fried Cashews and Raisins in a serving bowl :)


Ravva Kesari is ready for Nayivedyam and also to serve guests hot or cold


Note : If you want to make kesari into pieces let it get more thicken and take the sweet in flat ghee applied plate, let it cool and cut then in desired shape garnish with fried Cashews and Raisins on top