Ariselu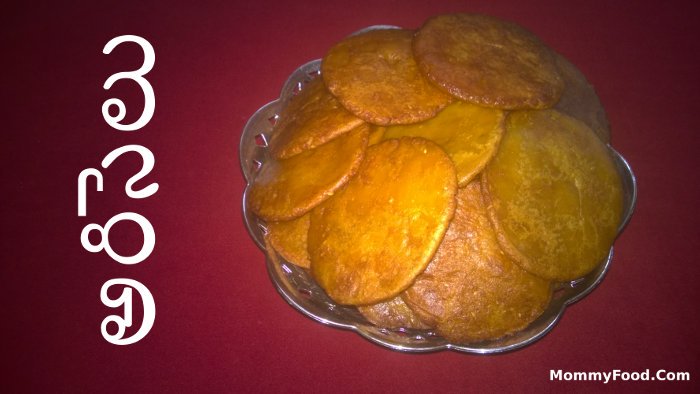 Nethi Ariselu
Ariselu is a traditional sweet of South India prepared for Makara Sankranthi. It is also prepared for weddings. There are three of variants in Ariselu.
Soft Nethi Ariselu: When prepared with only ghee, known as "Nethi Ariselu", these are soft and very tasty.
Semi Crispy Ariselu: Using oil and ghee in equal proportions gives a crispy outer layer and a soft inner layer.
Crispy Ariselu: When prepared with only oil, Ariselu are the most crispy.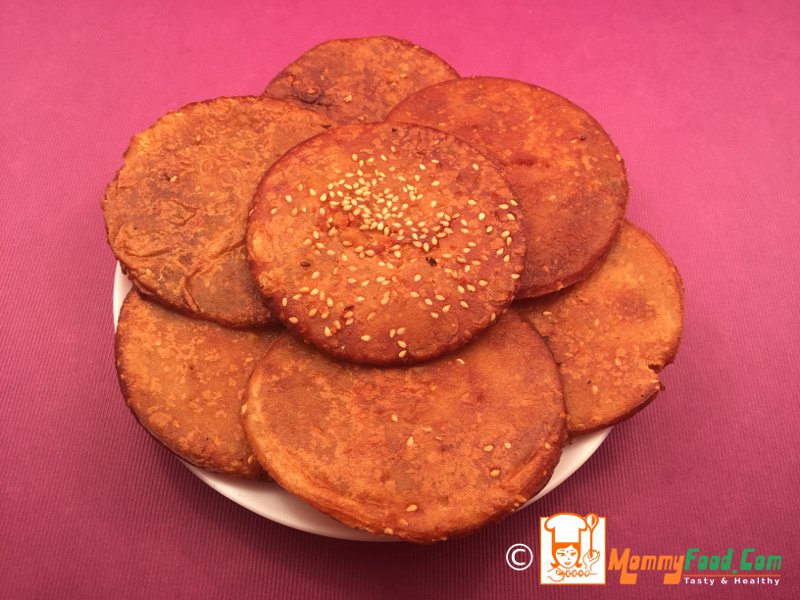 Crispy Ariselu
In this procedure I have used Sesame Seeds (Nuvvulu). Sesame Seeds heat up the body, being winter season, it helps. If you don't like Sesame Seeds you can use Poppy Seeds (Gasagasalu).
Soaking Time: 36-48 hours
Preparation Time: 30 minutes
Prepares: 50 (Depends on size) 
No. of persons required to cook: 2 minimum, 4 recommended
Ingredients
Laavu Paata Bhiyyam (Old fat Rice, Chawal): 2 Kgs
Note: The rice must be 1 year or older for best results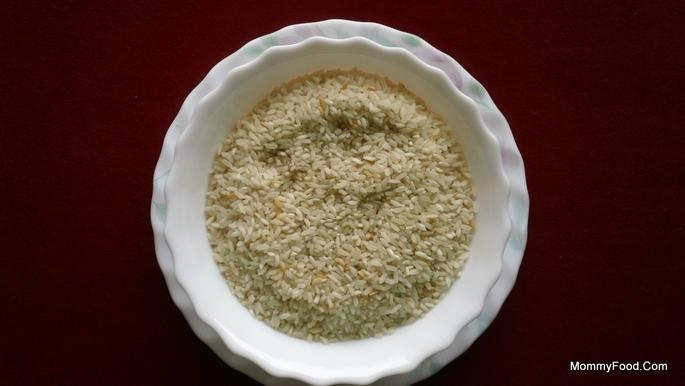 Bellam (Jaggery, Gud) : 1 kg
Note: Achu bellam will give good results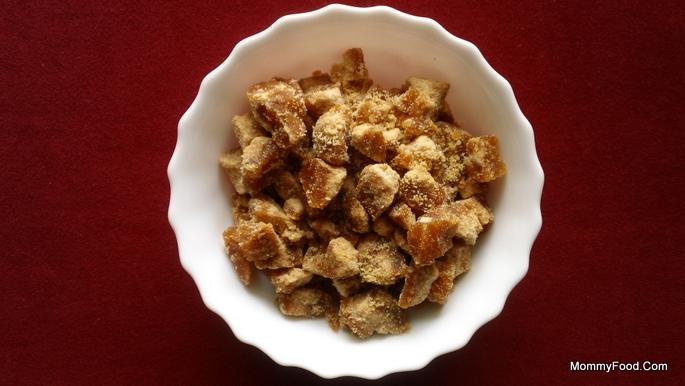 Nuvvulu (Sesame Seeds, Thil) : 100 grams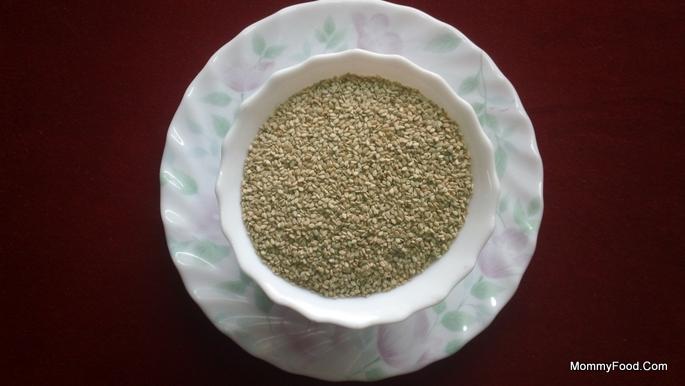 Nune (Oil, Thel) or Neyyi (Ghee, Clarified Butter) : 1 kg (I have used Rice Bran Oil since it is our observation over the years that absorption is less with Rice Bran Oil)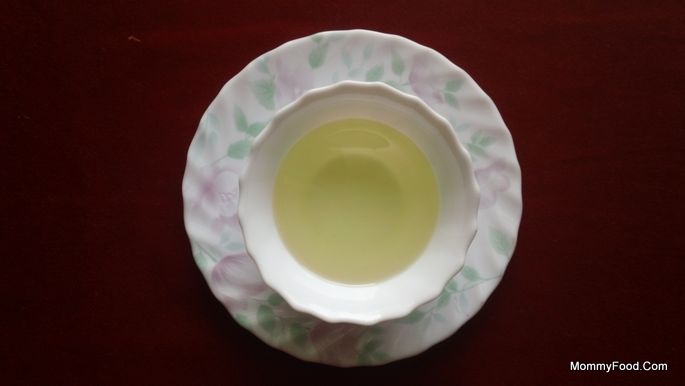 Arisela Chakkalu : To extract excess oil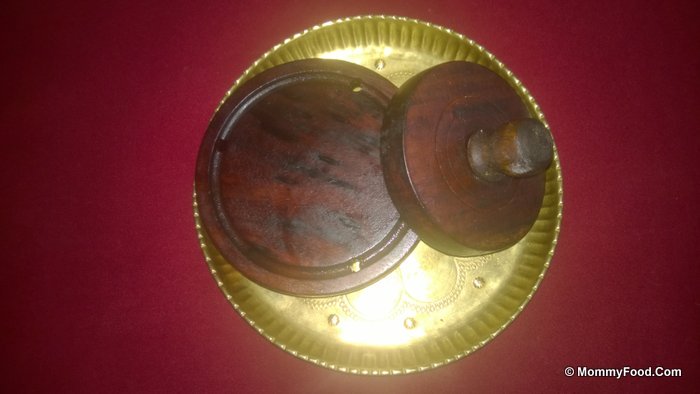 Procedure

Step 1:
Soak the rice for two days, clean it with water twice a day (Cleaning is to see that rice does not smell odd).

Step 2: Separate the soaked rice from water, place it on a clean dry cloth in the shade and let it dry for 5 to 10 minutes, blend wet rice to smooth powder (Pindi mara lo pattinchukunte baguntundhi).

Step 3: Add 1 kg mashed Jagerry and a 1/4th litre of water in a thick bottomed vessel, put in high flame. Once jaggery melts, filter the syrup (Bellam lo nalakalu vunte potayi).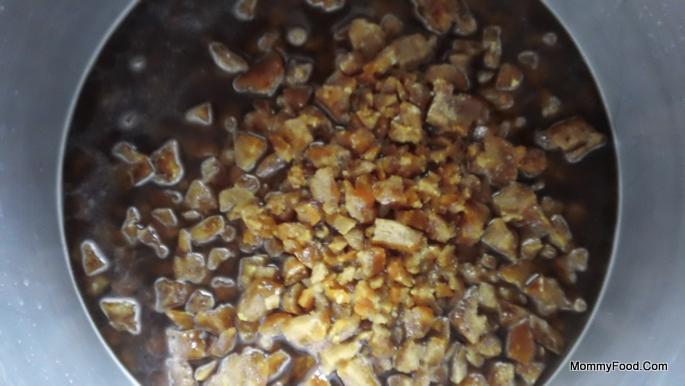 Meanwhile fry the sesame seeds (nuvvulu) in a dry pan for 5 minutes. Use medium flame and keep moving them continuously with a spoon. This brings out their good aroma.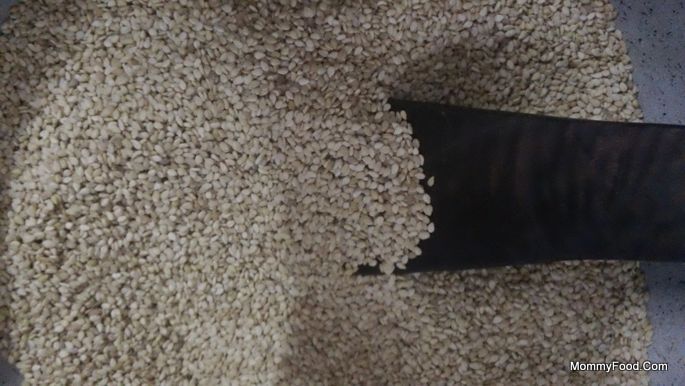 Step 4: Cook the filtered Jaggery syrup, stirring continuously. Let it become thick (Unda Paakam Raanivvali, Saagakudadu)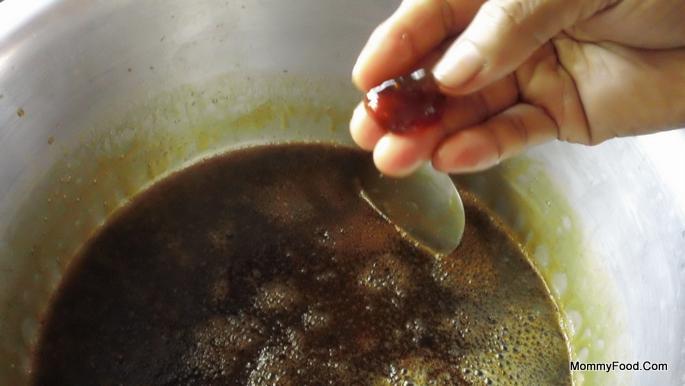 To check the syrup's consistency, pour some water into a plate, put a little syrup into the water and check if it is settled at the bottom without melting.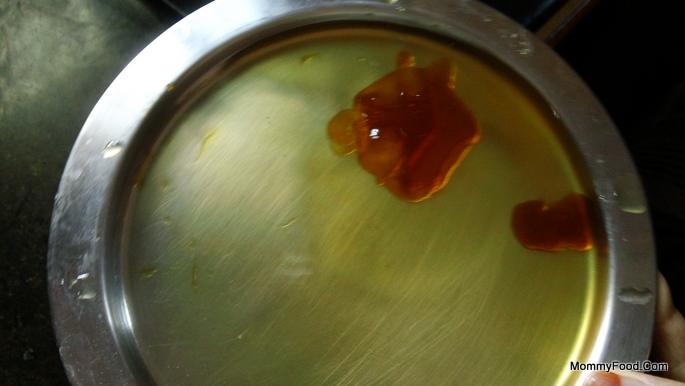 Step 5: Once cooked, put off the flame, put the vessel aside and add 2 tsp ghee, 100 grams fried Sesame Seeds.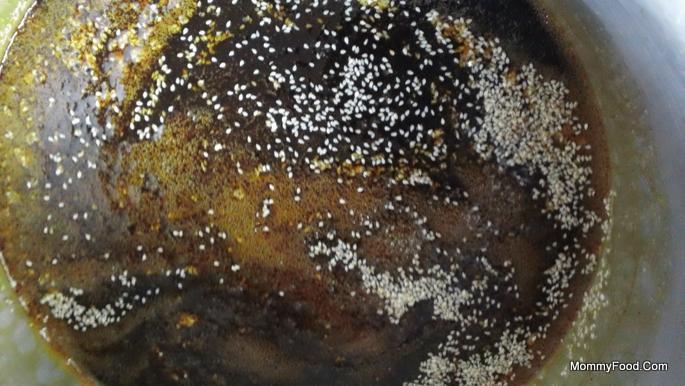 Person 1: Hold the mixing bowl tightly.
Person 2: Slowly add Rice Flour to the syrup (paakam).
Person 3: Mix thoroughly, see that no lumps formed (Undalu kattakunda) till it thickens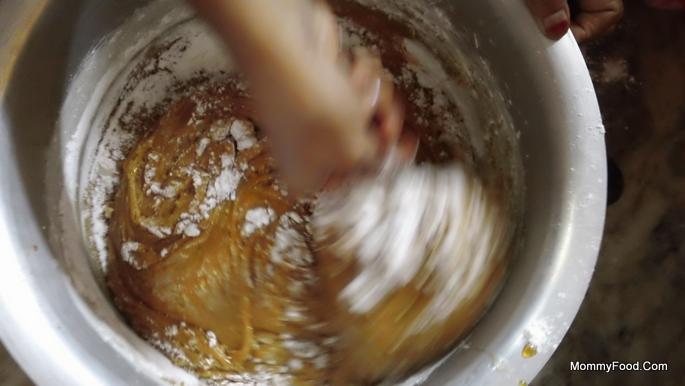 Step 6: Meanwhile heat ghee (approximately 1kg) in a small pan or kadai for frying the Ariselu.
Remember, for soft Ariselu it should be Ghee only. For semi-crispy it should be Ghee and Oil 50:50 and for totally crispy it should be Oil only.
Note: Larger kadai's require more ghee or oil to fry properly, add as required
Step 7: The mix should be to medium thickness (laddu chesukunettu vundali). While it is hot, take some dough in a small bowl and keep a lid on the remaining dough so that it does not dry up. Repeat it.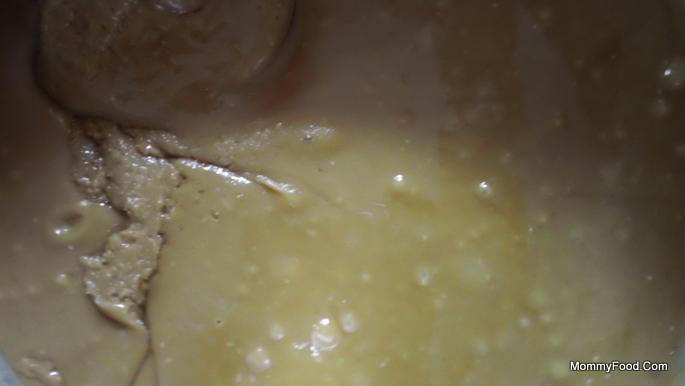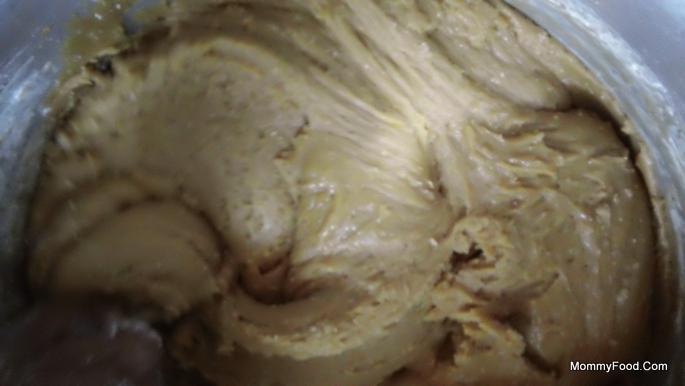 Step 8: Take one thick plastic cover, apply half tbsp Oil to it for preparing shaping up the dough
Step 9:
Person 1: Take little dough and make into small balls (big lemon size)
Person 2: Take dough balls, press into a flat circular shape with your hand
Note: One person can manage both these steps with expertise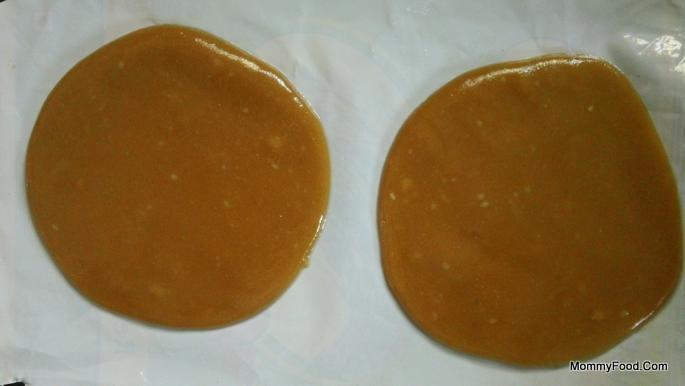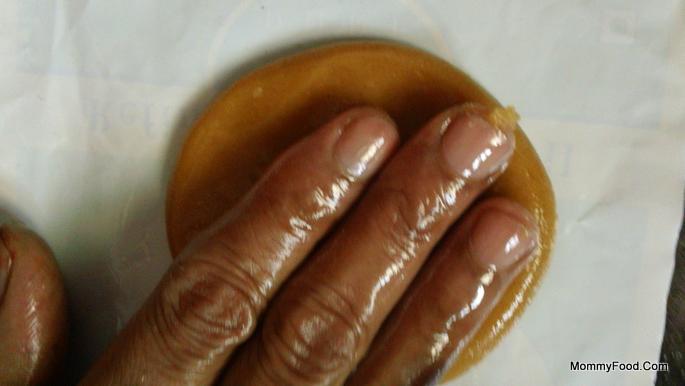 Step 10:
Person 2: Slowly leave the circular Rice Cakes into the pan
Person 3: Fry both the sides till golden brown color in high flame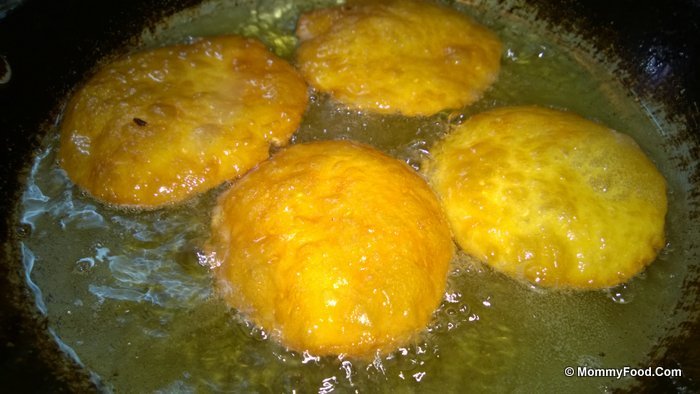 Step 11:
Person 3: Remove it with apaka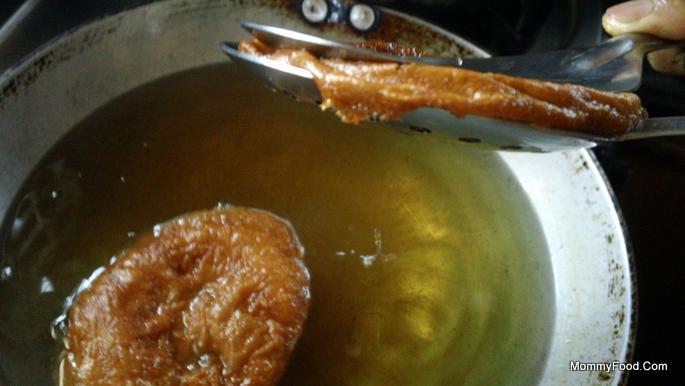 Step 12:
Person 4: Immediately press hard with wooden press to extract excess oil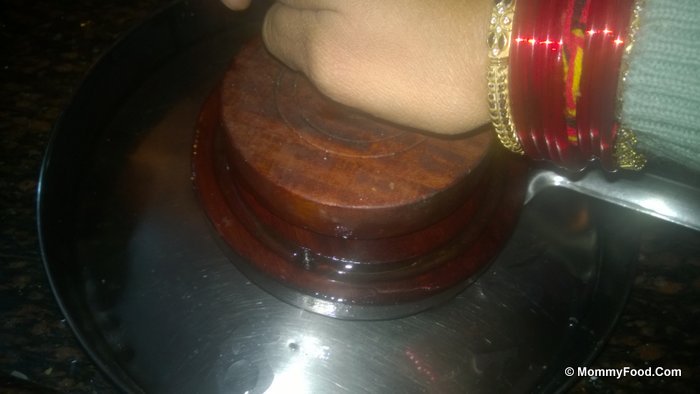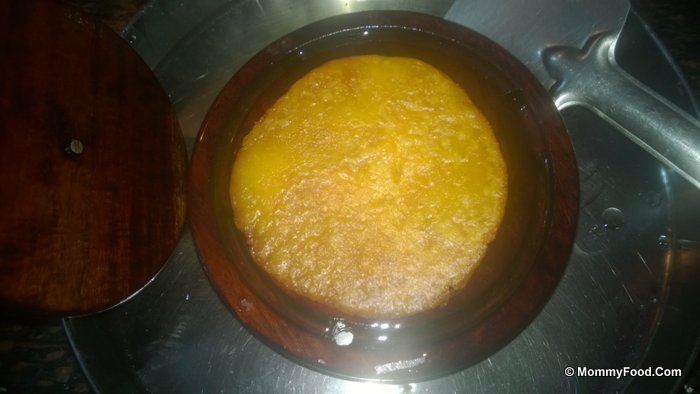 Note: In step 11 and 12, two persons are required.
Step 13 : Put the fried Ariselu on a tissue paper so that excess oil will be absorbed.
Tasty Rice Cakes (Ariselu) are ready to serve :)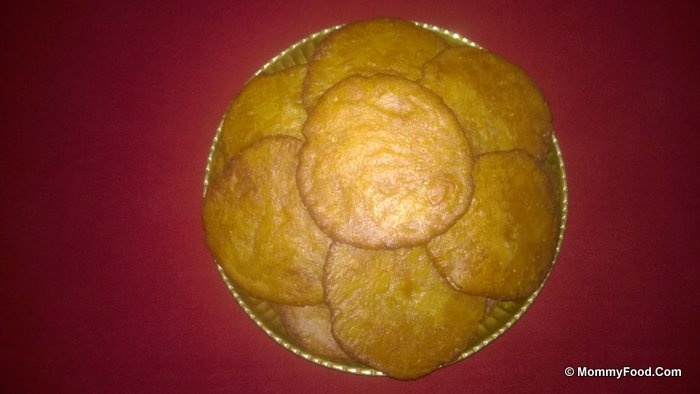 Nethi Ariselu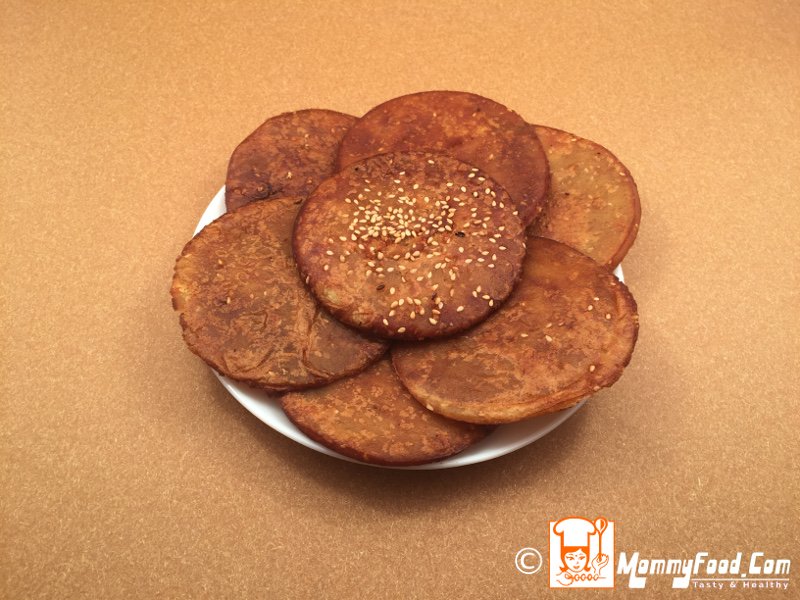 Crispy Ariselu

Note: Ariselu taste good when hot, heat them mildly on a Tawa or a Oven before consuming :)

Frequently Asked Questions
1) I do not have a wooden press. Can I use a roti maker to extract the excess oil instead of the wooden press?
A) The wooden press has holes to drain the extracted oil. A roti maker will hold the oil. With a little bit of trial and error, you can get it right by tilting the roti maker to drain the excess. Do remember NOT to press it too hard.
2) What if I fry them on low heat?
A) You should fry them in high flame, else it absorbs more oil 
3) It is bubbling up while frying!
A) If Ariselu are bubbling up, it means the rice is not old enough. You need to select OLD and FAT rice (lavu biyyam).
4) Can I use my home blender instead of a commercial blender (Girni)?
A) Well, No and Yes.
No because if the blend is not smooth, it will result in Ariselu getting disintegrated soon as it is put them into the oil for frying. Also, they will absorb a lot of oil.
Yes, if you have a capable blender that can do the job just as good.
5) How much Jaggery for For 1kg rice?
A) For 1Kg Rice you need 500Gms of Jaggery.
You will need to add 250ml of water. It is not necessary that the entire rice flour is used. How much is needed depends on the thickness of the dough. Start mixing rice flour into jaggery syrup and stop when it thickens to the right consistency. Sometimes you might not need to use the entire rice flour. "Thickness" is the key point here.
6) Key instructions?
Some important things to remember:
A) Choose good jaggery (Bellam)
B) You need to select OLD and FAT rice (lavu biyyam)
C) Rice must be powdered absolutely smooth
D) Fry in high flame, not in low flame
7) Can I use dry rice flour instead of wet?
A) Absolutely NO